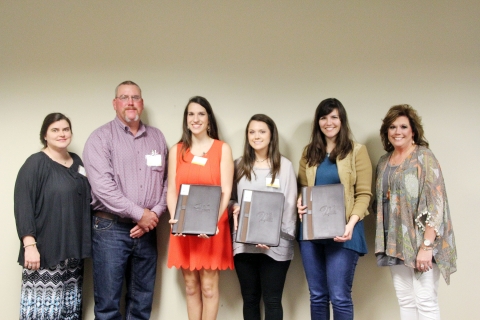 PRESS RELEASE
FOR IMMEDIATE RELEASE: May 30, 2017
Contact:          Sandra Alesich, Communication Director
Phone:          (601) 757-6216
E-mail:            sugarberry.hill@yahoo.com
The Mississippi Women for Agriculture recently awarded seven scholarships to Mississippi State University students pursuing a degree in an agricultural field at their annual state conference.
Taylor McNair, of Learned, received one of the Mississippi Women for Agriculture-Dianne Evans Memorial Scholarships, which is named after one of the organization's founding members.
As a senior agribusiness major at Mississippi State University, McNair plans to use the scholarship to complete her studies. She chose her field of study based on her background in agriculture.
"I grew up on a row crop farm and beef cattle operation," McNair said. "I saw the hands-on aspect of being in the field every day but never saw the business side. I wanted to learn more about that."
After taking several agribusiness classes, McNair knew she selected the right path.
"We deal a lot with learning how marginal benefit and cost effect an operation," she said. "How are we going to make a profit? And how will these trends change over time in agriculture? I find it extremely interesting."
McNair plans to graduate a semester early in December to pursue another dream.
"For my entire life, I have followed the Miss Rodeo Mississippi organization," she said. "That's what I want to do when I graduate in December — represent Mississippi and the sport of rodeo. I plan to compete for the Miss Rodeo Mississippi title in December, travel the state for a year, and then compete for the Miss Rodeo America title. If I were to win that, I would travel for another year."
Eventually, McNair hopes to attend law school.
"The Miss Rodeo America organization offers large scholarships for those who place high in the competition," she said. "If I was to place in the top five, I could afford to go."
As McNair nears graduation and knows she will not seek a full-time, paying job up front, the Mississippi Women for Agriculture scholarship has put her mind at ease about her financial situation.
"A lot of students are faced with leaving school with debt," she said. "This scholarship will allow me to graduate debt free and without the worry of a financial strain."
The scholarship McNair was awarded is named after Dianne Evans, of Shubuta, a founding Mississippi Women for Agriculture member. A scholarship fund was formed in 2013 in Evans' honor after she lost her battle with cancer.
Mississippi Women for Agriculture provides multiple scholarships each year to students pursing a degree in an agriculture field. For more information about the scholarships, visit http://www.mswomenforag.org/outreach/scholarships.
###