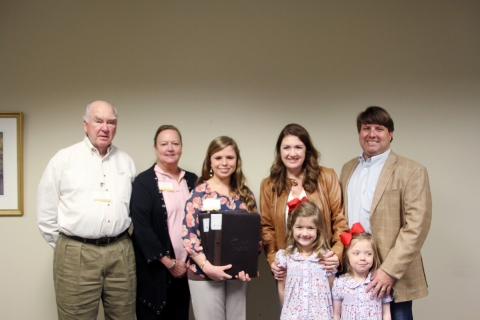 PRESS RELEASE
FOR IMMEDIATE RELEASE: May 30, 2017
Contact:          Sandra Alesich, Communication Director
Phone:          (601) 757-6216
E-mail:            sugarberry.hill@yahoo.com
The Mississippi Women for Agriculture recently awarded seven scholarships to Mississippi State University students pursuing a degree in an agricultural field at their annual state conference.
Rachel Wilson, of Pearl, received one of the Alma Cherry and Pam Steele Memorial Scholarships, which is named after two women who worked to improve Mississippi agriculture.
Wilson is currently pursuing a degree in veterinarian medicine at Mississippi State University. She grew up helping out on her grandparents' farm and showing lambs, cattle and horses through the Rankin County 4-H program.
She began to contemplate pursuing veterinarian medicine after meeting a female veterinarian who made farm visits to treat her cattle and horses. Wilson credits her parents, Van and Kim Wilson, and her grandmother Doris Lott, with providing the inspiration and support she needed to follow her dream. 
Upon the completion of her studies at Mississippi State, Wilson hopes to open a mixed animal practice in central Mississippi to serve her home area and be near family. She is concerned that fewer young people are getting involved with farming, which is why she is committed to giving back to her community by working with various 4-H programs.
Wilson hopes that by providing veterinary services and encouragement to youth, she will be able to contribute to building people's interest in food animal production in Mississippi.
In an effort to assist Mississippi agriculture through another avenue, Wilson has recently become an amateur beekeeper. As a child, she was impressed by her grandmother's beekeeping enterprises, which lead her to start her own apiary project with the help of a turkey hunting friend.
Wilson encourages young people with a passion for animals and agriculture to never give that up.
"Never give up," she said. "I always contemplated if I would be able to go to veterinary school. I always set limits for myself, and said that I did not have what it takes to be a veterinarian. I have always wanted to be a veterinarian and knew that I had to at least try. I could accept failure, but I couldn't accept just giving up and not trying. If I can make it through veterinary school, anybody can." 
She also warns that by setting boundaries, you can limit your growth.
"Don't set boundaries or limits for yourself," she said. "Just give it your all with anything you do, keep the good Lord by your side and never give up no matter how hard it gets. Life is too short to not try to accomplish your dreams."
The scholarship Wilson was awarded was created in remembrance of Alma Cherry and Pam Steele, best friends and members of the Mississippi Women for Agriculture organization. Cherry and Steele were ambassadors for Mississippi agriculture throughout their lives. The two were like sisters, which is why the Mississippi Women for Agriculture found it fitting to award the two 2017 Alma Cherry-Pam Steele Memorial Scholarships to two sisters, Rachel and Jessica Wilson.
Mississippi Women for Agriculture provides multiple scholarships each year to students pursing a degree in an agriculture field. For more information about the scholarships, visit http://www.mswomenforag.org/outreach/scholarships.
###