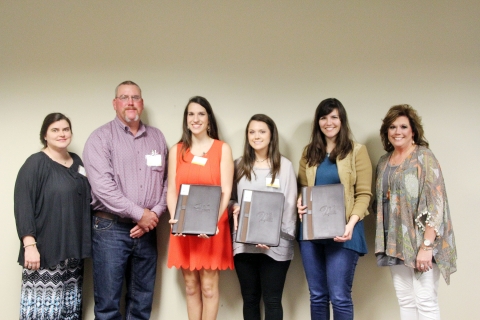 PRESS RELEASE:
FOR IMMEDIATE RELEASE: May 30, 2017
Contact:          Sandra Alesich, Communication Director
Phone:          (601) 757-6216
E-mail:            sugarberry.hill@yahoo.com
The Mississippi Women for Agriculture recently awarded seven scholarships to Mississippi State University students pursuing a degree in an agricultural field at their annual state conference.
Margaret Harris, of Benton, received one of the Mississippi Women for Agriculture-Dianne Evans Memorial Scholarships, which is named after one of the organization's founding members.
Harris plans to use the scholarship to pursue her undergraduate degree in agricultural information science with an emphasis in leadership. As a third generation farmer, Harris has always known she wanted to be involved in a career in agriculture.
"It took me a while to figure out what I wanted to do — to find my place in the industry," she said.
Despite only being a junior at Mississippi State University, Harris has big goals for her future. When she decided on her career path, there was no changing her mind.
"I want to work as an agricultural advocate," she said. "I love working with people to advocate for agriculture. It is the single most important industry in our lives, and I want to teach people that."
By being selected as a Mississippi Women for Agriculture scholarship recipient, Harris said she can focus on her studies without worrying about paying for school.
"Not having to think about finances makes going to school easier," she said. "I am so honored to have been selected to get this scholarship. Hearing about Mrs. (Dianne) Evans at the MWA luncheon made being a recipient that much more rewarding. I hope to live a life that leaves a legacy like she did."
Dianne Evans, of Shubuta, served as one of the founding members of Mississippi Women for Agriculture. A scholarship fund was formed in 2013 in Evans' honor after she lost her battle with cancer.
Harris is a member of Kapa Delta and the Wesley Foundation at Mississippi State. In the future, she hopes to attend graduate school and apply for the Farm Bureau Ambassador Program.
Mississippi Women for Agriculture provides multiple scholarships each year to students pursing a degree in an agriculture field. For more information about the scholarships, visit http://www.mswomenforag.org/outreach/scholarships.
 ###