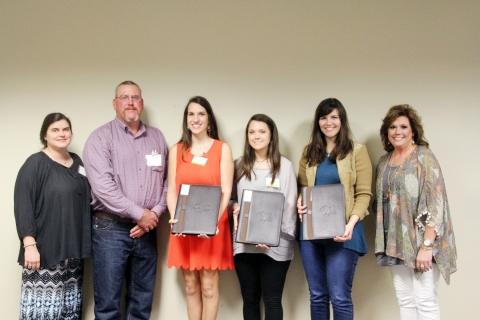 PRESS RELEASE
FOR IMMEDIATE RELEASE: MAY 30, 2017
Contact:          Sandra Alesich, Communication Director
Phone:          (601) 757-6216
E-mail:            sugarberry.hill@yahoo.com
The Mississippi Women for Agriculture recently awarded seven scholarships to Mississippi State University students pursuing a degree in an agricultural field at their annual state conference.
Laura McCurdy, of Pope, received one of the Mississippi Women for Agriculture-Dianne Evans Memorial Scholarships, which is named after one of the organization's founding members.
As a senior agricultural information science major with a teaching concentration at Mississippi State University, McCurdy plans to use the scholarship to finish paying for her degree. Upon graduation, she plans to move home and teach.
"I want to be a high school agriculture teacher," she said. "I was involved in FFA as a student, and I would like to give back to the organization that gave so much to me."
McCurdy said if she had not received the Mississippi Women for Agriculture scholarship, she would be more concerned about her financial stability.
"I have been responsible for my education," she said. "This scholarship helped me pay for my tuition and books. I really appreciate the scholarship and hope to get more involved in the Mississippi Women for Agriculture organization because of it."
The scholarship McCurdy was awarded is named after Dianne Evans, of Shubuta, a founding Mississippi Women for Agriculture member. A scholarship fund was formed in 2013 in Evans' honor after she lost her battle with cancer.
Along with her studies, McCurdy has participated in the Mississippi State University Cattlemen's organization, the Promise Program and the Collegiate FFA Club during her tenure at the university. 
Mississippi Women for Agriculture provides multiple scholarships each year to students pursing a degree in an agriculture field. For more information about the scholarships, visit http://www.mswomenforag.org/outreach/scholarships.
    ###