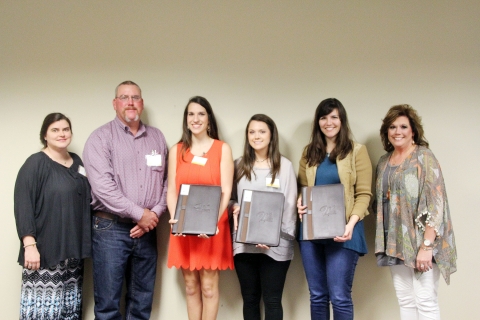 PRESS RELEASE
FOR IMMEDIATE RELEASE: May 30, 2017
Contact:          Sandra Alesich, Communication Director
Phone:          (601) 757-6216
E-mail:            sugarberry.hill@yahoo.com
The Mississippi Women for Agriculture recently awarded seven scholarships to Mississippi State University students pursuing a degree in an agricultural field at their annual state conference
Kelli Jackson Russell, of Pheba, received one of the Mississippi Women for Agriculture-Dianne Evans Memorial Scholarships, which is named after one of the organization's founding members. The award will assist Russell in her graduate studies in rural sociology, which will build on her undergraduate degrees in political science and history.  
Russell's experiences in the Little Britches and Mississippi High School Rodeo associations led to her tenures as Miss Rodeo Mississippi 2009 and Mississippi's first Miss Rodeo America the following year. Travelling across the state and nation promoting rodeo and family values afforded Russell ample opportunities to speak with people in rural America about their needs and concerns. Following her tenure as Miss Rodeo America, Russell worked as a Congressional staffer under Mississippi's United States Congressman Alan Nunnelee for five years, dealing with agricultural issues.
Throughout her life, Russell has been surrounded by strong women who encouraged her to be a trailblazer and to believe that anything is possible. She acknowledged that her success has been produced by the unfailing support, leadership and compassion for others modeled by her parents, Dr. Gary Jackson, Mississippi State University Extension Service's extension director, and Nancy Jackson, DVM. Most of all, she said her achievements would not have been possible without her husband David, who helps her juggle school and family responsibilities.
Russell sees the cultural disconnect and lack of education between consumers and producers as a vital concern. Production agriculture is under a great deal of scrutiny as today's consumers want to know where and how their food was produced, she said. Unfavorable media coverage has put farmers and ranchers on the defensive. 
"We must be proactive to share agriculture's story, formally and informally, if we want to change things," Russell said.
The lack of proper education extends to the younger generations, as well, she said. 
Rural communities have lost their voice," Russell said. "So many young people today fail to understand the economic and cultural impact of production agriculture and family farms."
In Russell's opinion, improved communication is crucial to correcting these problems, and social media and purposeful interaction can be great avenues for proponents of agriculture.
Russell is convinced that many of the challenges facing rural communities and farmers can be addressed by research that produces effective policy changes. Her goal is to work for improved policy and ultimately to teach on a college level. 
The scholarship Russell was awarded is named after Dianne Evans, of Shubuta, a founding Mississippi Women for Agriculture member. A scholarship fund was formed in 2013 in Evans' honor after she lost her battle with cancer.
Mississippi Women for Agriculture provides multiple scholarships each year to students pursing a degree in an agriculture field. For more information about the scholarships, visit http://www.mswomenforag.org/outreach/scholarships.
    ###