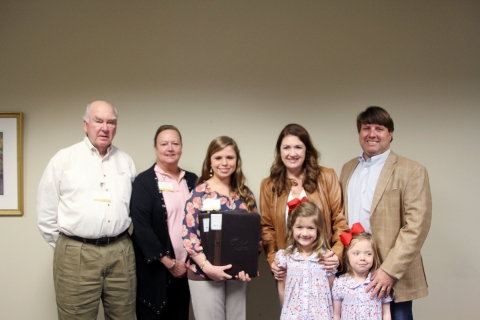 PRESS RELEASE
FOR IMMEDIATE RELEASE: May 30, 2017
Contact:          Sandra Alesich, Communication Director
Phone:          (601) 757-6216
E-mail:            sugarberry.hill@yahoo.com
The Mississippi Women for Agriculture recently awarded seven scholarships to Mississippi State University students pursuing a degree in an agricultural field at their annual state conference.
Jessica Wilson, of Pearl, received one of the Alma Cherry and Pam Steele Memorial Scholarships, which is named after two women who worked to improve Mississippi agriculture.
Wilson is currently pursuing a degree in veterinarian medicine at Mississippi State University. She was introduced to her love of animals by helping her grandparents on their farm. She also participated in the Rankin County 4-H program, which provided ample opportunities to learn about livestock. She competed in lamb, cattle and horse shows, as well as in horse quiz bowls and hippology contests.
With the support and inspiration from her parents, Van and Kim Wilson, and her grandmother Doris Lott, Wilson was led to blend her love for animals and passion for science to pursue a career as a veterinarian. Her desire is to help animals and their owners in a central Mississippi mixed animal practice.
Wilson hopes she will be able to continue to support Rankin County 4-H and spend time with her family. An added bonus to moving home and working in a practice there will be the proximity to her favorite fishing spots along the river.
Wilson cites concerns about the decline in food animal production, particularly in beef cattle operations and dairies. She hopes that by providing large animal veterinary services, she will encourage more producers to launch and expand food animal operations. She is committed to honing the necessary people skills which will facilitate great communication with her clients.
Jessica advises others who would pursue her career path to stick with it.
"It's not easy, but it's worth it," she said. "You can do it. Persevere."
The scholarship Wilson was awarded was created in remembrance of Alma Cherry and Pam Steele, best friends and members of the Mississippi Women for Agriculture organization. Cherry and Steele were ambassadors for Mississippi agriculture throughout their lives. The two were like sisters, which is why the Mississippi Women for Agriculture found it fitting to award the two 2017 Alma Cherry-Pam Steele Memorial Scholarships to two sisters, Rachel and Jessica Wilson.
Mississippi Women for Agriculture provides multiple scholarships each year to students pursing a degree in an agriculture field. For more information about the scholarships, visit http://www.mswomenforag.org/outreach/scholarships.
###