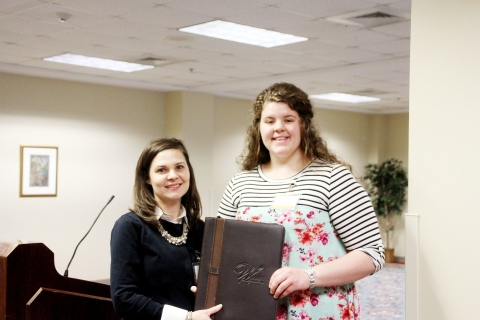 PRESS RELEASE
FOR IMMEDIATE RELEASE: May 30, 2017
Contact:          Sandra Alesich, Communication Director
Phone:          (601) 757-6216
E-mail:            sugarberry.hill@yahoo.com
The Mississippi Women for Agriculture (MWA) recently awarded seven scholarships to Mississippi State University students pursuing a degree in an agricultural field at their annual state conference.
Chloe Henson, of Corinth, received the Cindy Hyde-Smith Woman of Agriculture Scholarship, which is named after Mississippi's current and first female Commissioner of Agriculture and Commerce.
Henson intends to use the scholarship to pursue her master's studies in agricultural economics.
"I am a first year graduate student at State," Henson said. "I have begun working on my thesis project which looks at food waste and how the aesthetics of a fruit or vegetable determine how the consumer picks a product out at the grocery store."
With her study, Henson hopes to better understand what consumers are willing to pay for in order to establish better marketing practices for produce that is not aesthetically pleasing.
Henson said she can dive deeper into her studies without worry thanks to the financial security the Mississippi Women for Agriculture scholarship provided.
"At Mississippi State University, we get a tuition grant with our master's assistantship," she said. "Despite having that, the financial burden is still there. It's difficult to work while being a research assistant in college. The MWA scholarship has allowed me to concentrate more on my studies than finances."
Mississippi Women for Agriculture provides multiple scholarships each year to students pursing a degree in an agriculture field. For more information about the scholarships, visit http://www.mswomenforag.org/outreach/scholarships.
###