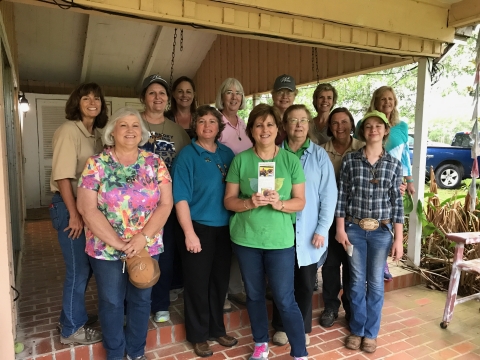 PRESS RELEASE
FOR IMMEDIATE RELEASE: May 26, 2017
Contact:          Sandra Alesich, Communication Director
Phone:          (601) 757-6216
E-mail:            sugarberry.hill@yahoo.com
Mississippi Women for Agriculture members and friends traveled to Poplarville, Mississippi, on Saturday, May 20 for a tour of Red Gate Bison Ranch and Shroomdom, Inc. Undeterred by inclement weather, the 12 participants found the day to be a success in terms of education and networking. 
Lightning may have prevented the group from taking a wagon ride to feed the bison, but the time was put to good use. The visitors fashioned jewelry and enjoyed all-natural grass-fed bison chili, while Beth Toups and Michelle Roach — the owners of Red Gate Bison Ranch — fielded dozens of questions.
Of Mississippi's four bison herds, Red Gate is the only ranch that is actively producing and marketing bison meat. The high alkalinity and lean composition of bison makes it a tasty and healthy option. For the past three years, the Red Gate proprietors have applied lime to raise the pH of the soil, built substantial fences and stocked the 200 acre ranch with bison. A suitable processing facility in Louisiana, successful marketing and the development of an agritourism site has helped the Red Gate proprietors move forward with their dream. 
At Shroomdom, Inc., tour participants were warmly greeted by owners Tony and Leilani Rosenbaum and their family; Pearl River County Extension Agent Eddie Smith; Butch and Dawn Smith of Country Girls Creamery; and Dr. Ales Gregorc and his daughter Margaret of Ljubljana, Slovenia, who were there to assist with questions about the Rosenbaum's Slovenia bee hives. Leilani Rosenbaum led tours of the Enchanted Forest, identifying and collecting wild mushrooms along the way. Gregorc explained the Slovenian bee house structure and procedures. Tony Rosenbaum guided visitors through the techniques and processes used to propagate and grow cultivated mushrooms in the highly specialized grow house facilities.
Tour members were treated to a variety of fresh cheeses from Country Girls Creamery, a Pearl River County dairy that utilizes a low-temperature pasteurization process and exclusively milks Jersey cows. The refreshment menu also included homemade bread and a sautéed medley of squashes, cultivated oyster mushrooms and wild chanterelles. Dessert featured a Queen's Hive cake topped off with fresh blueberries and Country Girls Creamery gelato.
Mississippi Women for Agriculture looks forward to future tours and hopes to encourage more people to visit the Pearl River County farms that offer unique learning experiences and quality Mississippi agricultural products.